Sawyer Project
February project of the month
Before new kitchen cabinets
Our tract house was built in 1991 and had never been updated.  EVERYTHING was original.
We wanted to change all the old stuff with the exception of the floor plan.   Our biggest challenge was the kitchen.  Not only were the cabinets horrible but the layout didn't work for us.
My husband is a really good cook and has lots of kitchen gadgets and appliances.  Our old kitchen was small and we lacked storage cabinets and counter space.
Our custom cabinet designer had an easy solution and now we LOVE our new kitchen.
New kitchen cabinets with pantry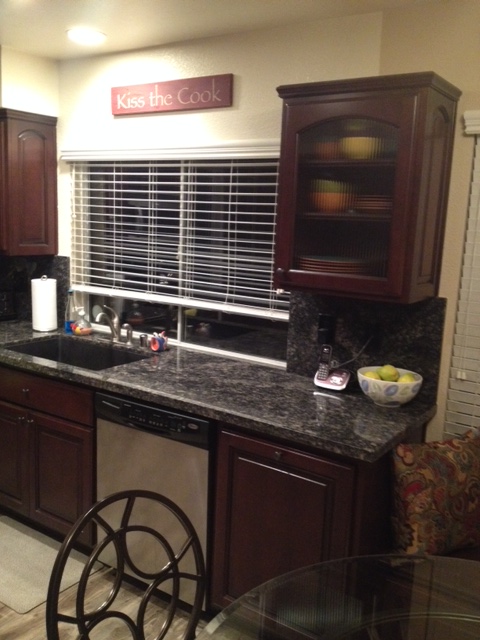 New cabinet area with reeded glass door
After custom cabinets installed
Our custom cabinet designer suggested that we replace a small pantry cabinet, an upper and base cabinet with 3 full height pantry cabinets.
To make up for the small counter space that we lost on this wall (near the fridge) we extended the base cabinets to the right of our sink and added an upper cabinet (with a beautiful reed glass window).
These changes have made a dramatic improvement in the functionality of our kitchen and it looks beautiful.
Kitchen features we really love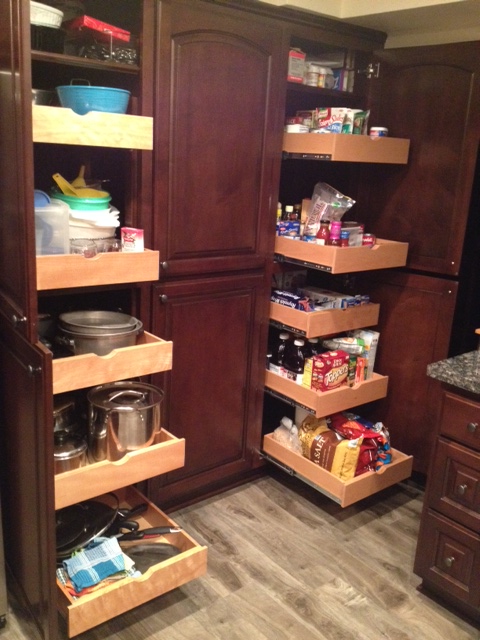 Pull out shelves for pantry
Full extension pull out shelves
Inside of the 3 pantry cabinets we added a total of 15 full extension rolling shelves.  Our pantry cabinet use to be a cave and we never knew what was in there.  Our new rolling shelves give us full access to the very back and now we can easily see what we have.
We are so much more organized, because we can see what we have we no longer buy duplicates of things.
My husband and I have stopped asking each other "where's the ….".
We also added a double stack lazy Susan; a flip down tray at our sink cabinet; a cookie sheet/baking pan cabinet; a trash and recycling center and my husband's 2nd favorite – a spice drawer.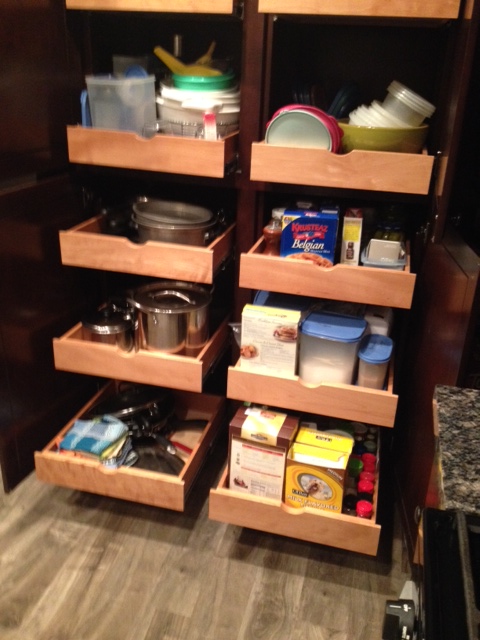 Pull out shelves for pantry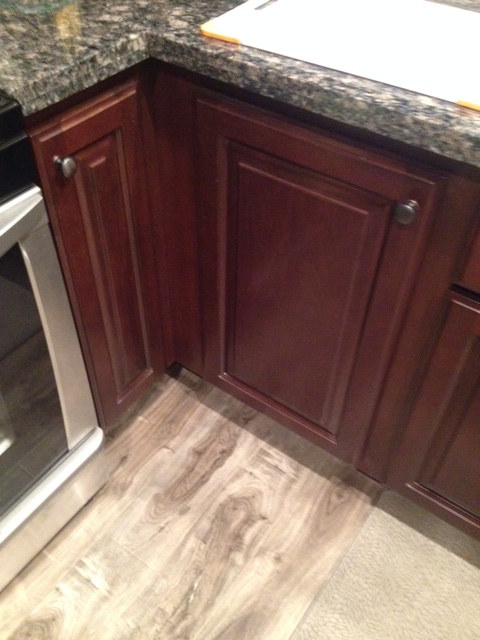 Lazy Susan cabinet closed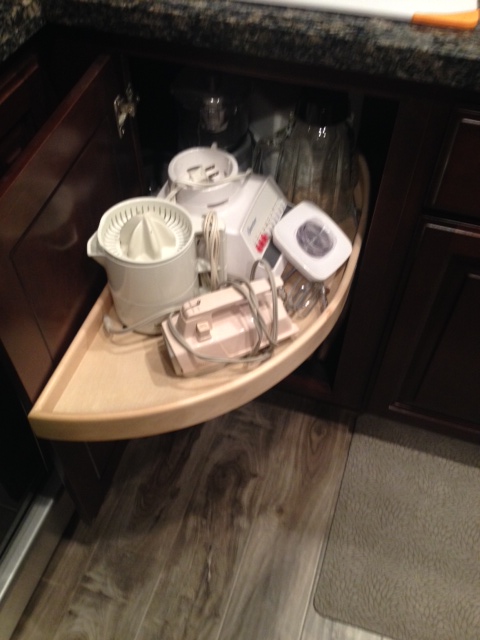 Lazy Susan fully extended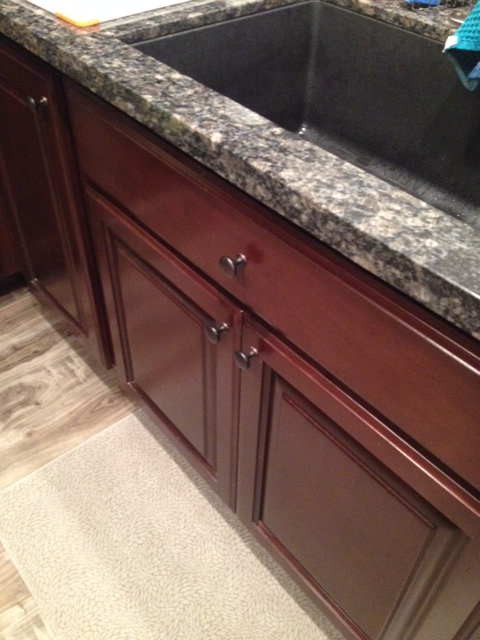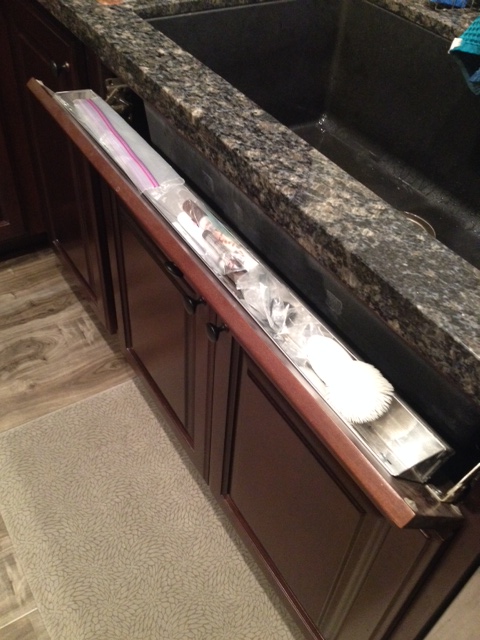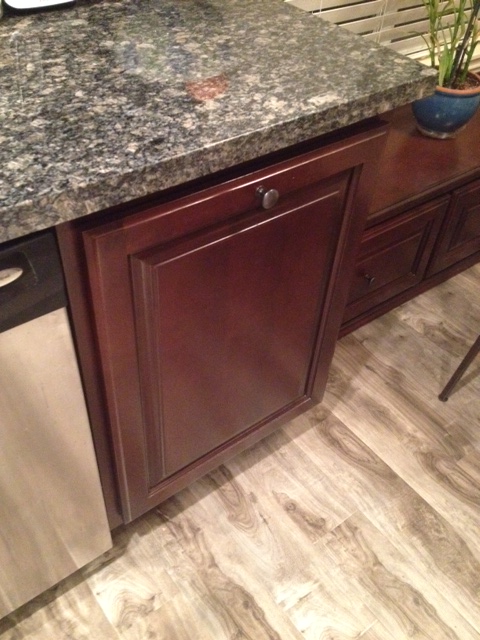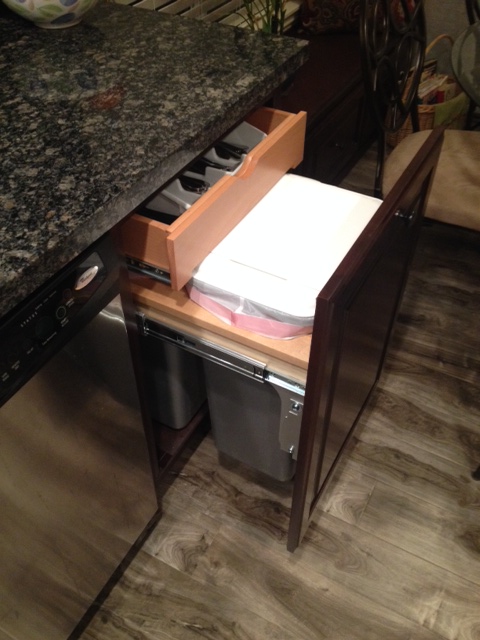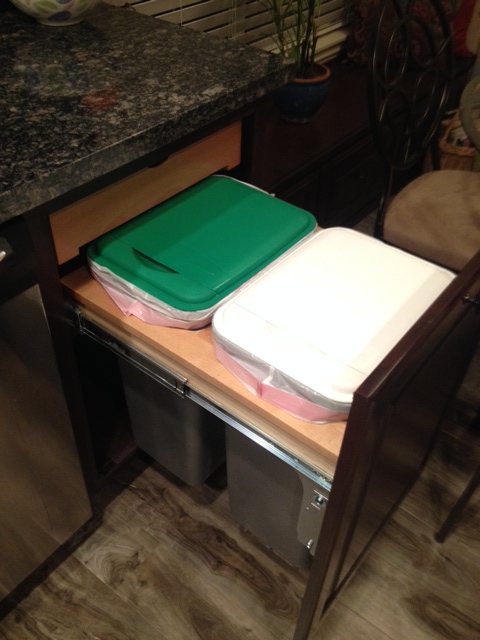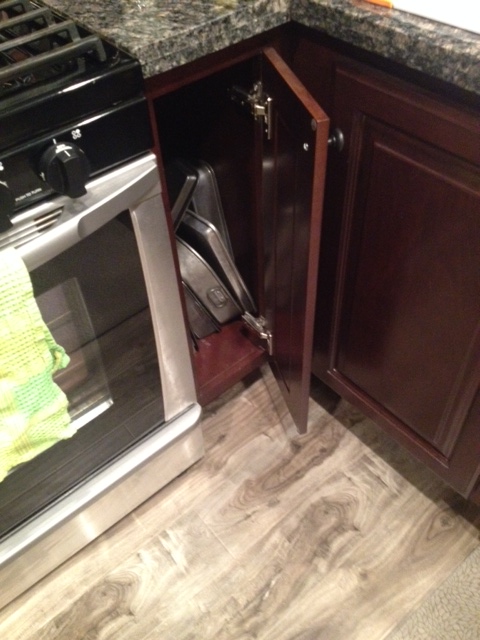 Cookie sheet and cutting board storage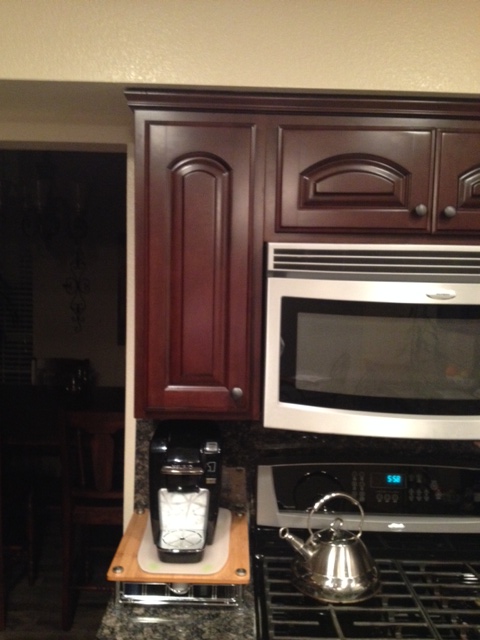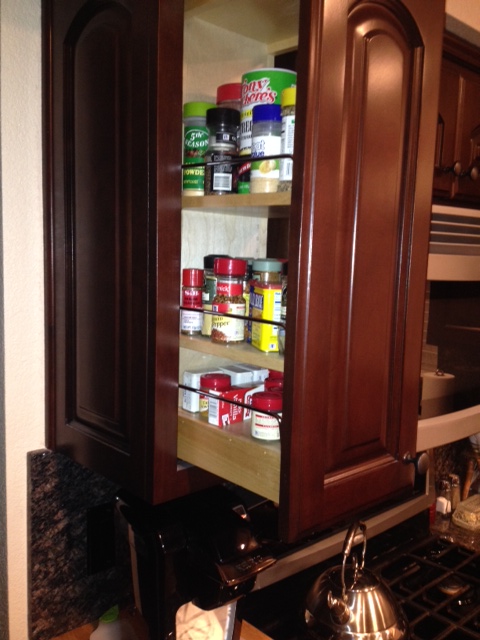 Window seat and bar
The addition of a window seat gives us additional full extension drawers for our less used items and additional seating.
Add the soft close hinges and drawer glides and our new custom kitchen is exactly what we dreamed about and never thought we could have.  Our friends and family think our new kitchen is great.
We enjoy entertaining and now we have a custom kitchen designed for our wants and needs .
We knew we wanted to add display, storage and some kind of bar area to our dining room but again we were limited on space.  Our designer suggested that we take advantage of the high ceiling and frame the window with cabinets. We now have room for our wine, glasses and our new wine fridge.  The window seat cabinet with the full extension glides gives us more extra storage.   It's a great addition to that room.  Since it's visible from the front door it creates a great impression when guests come in.
Master and guest bathroom remodel
We also completely remodeled our 3 bathrooms.  We replaced the stock cabinets with custom cabinets designed with a cabinet configurations that worked for us.  Our new bathroom cabinets look amazing.
Our downstairs half bath has a funky angled wall and our designer came up with an interesting way to make the cabinet compliment the space.  Look closely at the 3 drawers on the right.  These drawers are fake.  The angle of the wall does not allow for real drawers but our designer used fake drawer front to give the illusion of a larger cabinet.
Yes, the remodel was a lot of work, especially since we did a great deal of the work ourselves to save money.  The cabinet installation process was painless and the custom cabinets tied all of our decorating decisions together.  The installation crews did a great job.  They were very polite; friendly and respectful of our home.  They also did a great job cleaning up after themselves.  It's obvious that they enjoy their job and are proud of their work.  All of our other trades (granite, flooring, etc.) raved about our cabinets and have told some of their customers about Woodwork Creations.  Today we enjoy our home so much that for the first time we took a vacation and stayed home!!
Don't Be Shy. Get In Touch.